1.Product Introduction
7Inch Linux All-In-One Touch Machine RGL070-A01 adapts RK3568 mainboard,resolution is 1024X600,supports LCD display driver interface,supports TF card,Ethernet,USB3.0,RS485,RS232 COM port,BT\WIFI and others.Meanwhile,various interfaces are customizable, meeting the needs of customers in various environments.
Mainly used in industrial automation, medical equipment, smart home, commercial equipment, buildings, transportation fields, etc.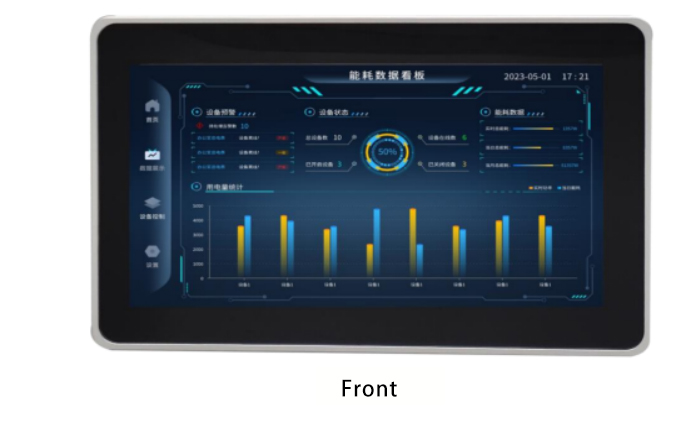 2.Product characteristics
1.Aluminum alloy frame, high-end design
2. Linux operating system, stable and reliable, with a highly customizable development platform
3.Can realize capacitive touch and display functions to achieve human-computer interaction
4.Support voice playback and video playback
5.Support WIFI/Ethernet and other networking methods, which can realize remote data transmission and interconnection to the cloud
6.Support a variety of interfaces, such as RS485, RS232, USB and other different ways of communication, and communicate with external devices
7.Embedded wall mounting has a variety of installation methods, easy to install, suitable for a variety of industries
3.Product illustration
3.1 Overall diagram of the product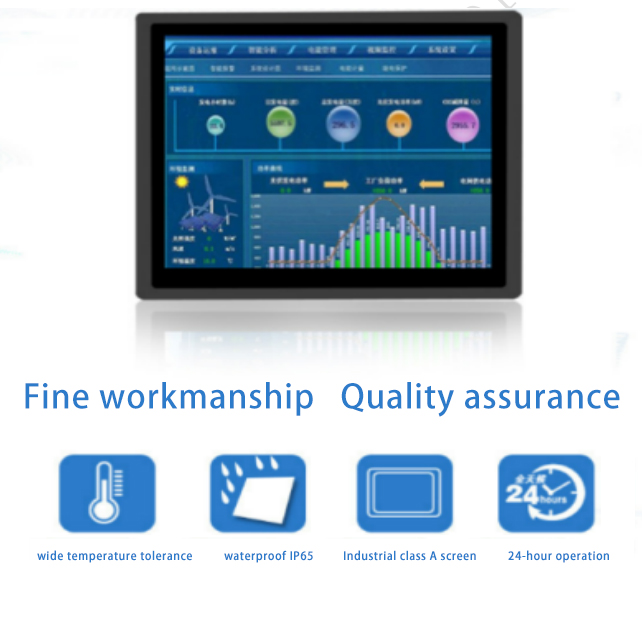 3.2 Product interface diagram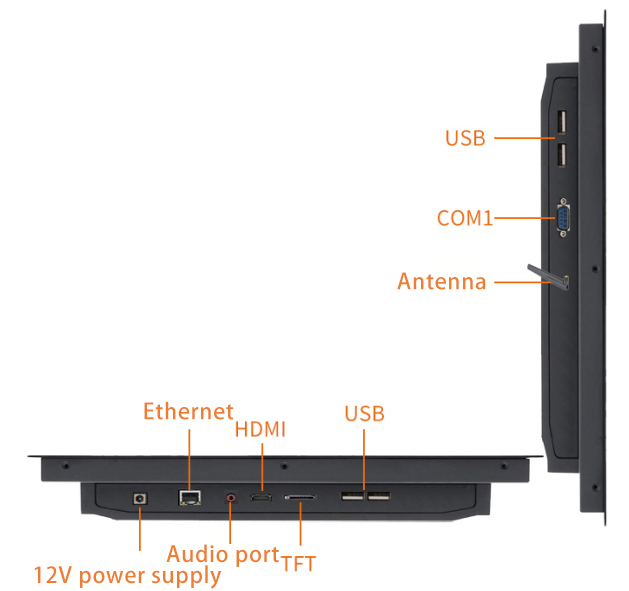 3.3 Product structure diagram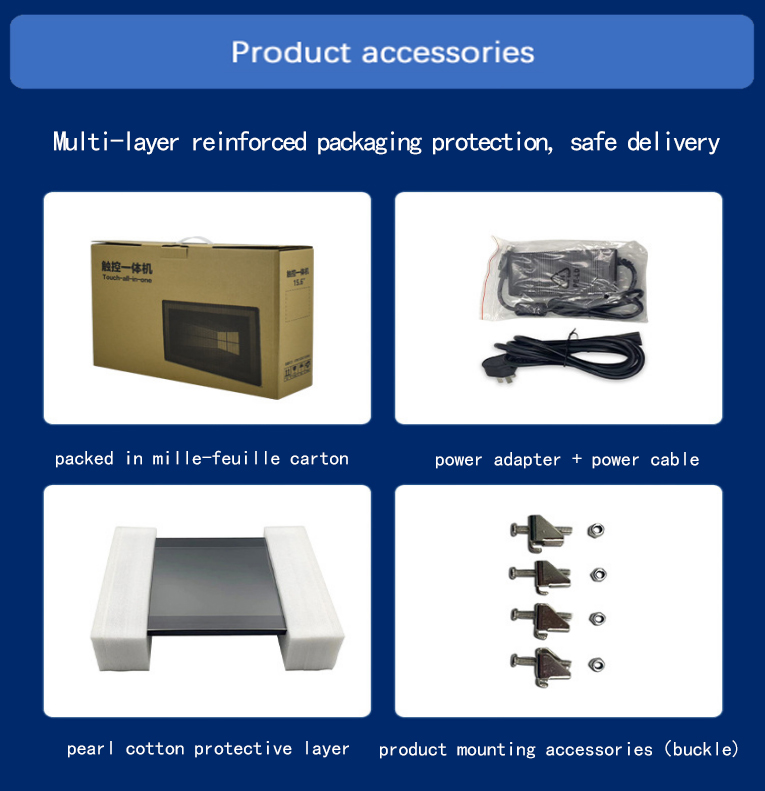 4.Product parameters
4.1 LCD parameters
| | | |
| --- | --- | --- |
| Specification | Data | Description |
| Screen size | 7 Inch | Ratio: 16:9 |
| Resolution | 1024*600 | |
| Color | 16.7M | - |
| Display size(A.A.) | 154.21(L)*85.92(W) mm | - |
| Overall dimensions | 184.20(L)*119.20(W)mm | - |
| Backlight brightness | 500cd/m2 | Adjusted by PWM |
| Backlight life(Hour) | 50000Hrs | LED Backlight |
| Viewing angle(CR>10) | Wide viewing angle | Panel type:IPS |
| Touching type | Capacitive touch | Single-point touch/ Multi-point touch |
| Service life | Touching times≥50 million times | |
| Response time | 8ms | |
4.2 Hardware parameters
| | | |
| --- | --- | --- |
| Specification | Data | Description |
| CPU | RK3568 quad-core 64-bit Cortex-A55 with a maximum frequency of 2.0Ghz | AllwinnerT113-S3 dual-core Cortex-A7 |
| GPU | ARM G52 2EE,supports OpenGL ES 1.1/2.0/3.2,OpenCL 2.0,Vulkan 1.1,Embedded high-performance 2D | |
| Memory | LPDDR4X 1GB/2GB/4GB/8GB (optional) | Chip integration 128M SDRAM |
| Built-in memory | EMMC 8G/16/32G/64G/128GB (optional) | 128M NandFlash or 8GB eMMC |
5.Interface parameter
Display interface

HDMI OUT interface

HDMI2.0 Maximum supporting 3840x2160 output (inner supporting LVDS、EDP、MIPI)

Audio interface

Headphone holder interface

1 microphone mono input (analog signal input), 1 audio two-channel output (analog signal input)(microphone input) supported)

Power amplifier interface

Left and right dual channel output, support 8Ω 10W dual speaker

Network support

Ethernet

1 standard RJ45 interface, (built-in 1 x 2.0mm-4P socket), 10/100M Ethernet adaptable

WIFI/BT

On-board WIFI/BT module, support WiFi 2.4GHz/5GHz dual-band WiFi6 (optional), support 802.11a/b/g/n/ac protocol, support Bluetooth 4.0 (support BLE)

Mobile networks

1 internal MINI PCIE cradle slot for extended connectivity to 3G/4G modules

Basic interface

USB 2.0/3.0

2 USB Host ports, 1 external standard USB 3.0 cradle, for external HD USB camera, USB flash drive, keyboard and mouse and other devices

USB OTG

1 USB OTG port for debugging the system, updating firmware, and can also be set as Host 模式

Serial Port

1-way serial port, (optional RS232 serial port,RS485 serial port)

GPIO Port

Built-in 5 IO ports, supporting input and output

On-board RTC

Built-in RTC: supports real-time clock, 1220 coin cell battery powered
6.Reliability parameters
| | |
| --- | --- |
| Operating temperature | -20°C~70°C |
| Storage temperature | - 30°C~80°C |
| Relative humidity | Humidity: 95% Non-Condensing |
| Vibration protection | IEC 60068-2-64, random, 5 ~ 500 Hz, 1 hr/axis |
| Product certification | CCC/EMC/CB/ROHS |
| Front waterproof rating | The front panel is IP65 rated |
Maintenance
1.The power cord must be kept in good contact to avoid loosening, ignition, and voltage up and down.
2.Machine shutdown, please close the current program, then click "Start" and then "Shut down", and then turn off the AC power switch after no signal is displayed.
3.Press the power switch to turn off the machine again if you need to turn on again, wait at least 5 seconds before operation, and the switch of the body will cause certain damage to the machine, affecting the service life, please avoid frequent power on and off operation.
4.If it is not used for a long time after shutdown, it is best to cut off the external main power supply (turn off the power outlet and unplug the power plug).
5.In thunderstorm weather, it is recommended not to use the machine, and it is best to unplug the power cord and network cable to prevent lightning strikes. The power cord must be kept in good contact to avoid loosening, ignition, and voltage up and down.
6.After using external storage devices such as U disk and mobile hard disk, please exit the device according to the correct operation process and then unplug it.
7.If you are not absolutely sure, do not add, delete, or change computer system files and settings at will.
8.If there is no special need or absolute certainty, do not use third-party software to repair the system.
9.When cleaning the machine, first pull out the power plug, then apply the cleaning solution to a soft cloth and then wipe it, paying special attention not to use a rag that is too wet to place water inside the machine.
10.If the light is too bright, or even direct light, on the one hand, it will affect the visual communication of the touch all-in-one machine, and on the other hand, direct light will damage the screen electronic components.
11.The humidity of the environment where the machine is located should be suitable, and the electronic equipment is too wet will affect the circuit situation and cause problems.
Important notes:
01. Do not place the machine in an unstable or easy to fall place.
02. Avoid exposing the machine to sunlight and other heat sources.
03. In thunderstorms (especially lightning), please unplug the power plug and antenna plug.
04. Please arrange the power cord in a place where people are not likely to trip and do not cover the power cord with any debris.
05. Before you supply power to the device, please confirm whether the power supply voltage meets the requirements of the equipment.
06. Please do not overload the power socket to avoid fire or electric shock.
07. For devices that use power cords, there must be easily accessible power outlets around the device.
08. Before cleaning the appliance, unplug the power cord from the outlet and wipe the monitor with a dry, soft cloth.
09. Please avoid chipping, rust, damage, etc. of products or components (such as shells, LED screens, interfaces, components, wiring, etc.) caused by insect bites or foreign matter invasion.
10. Avoid contact or exposure to inappropriate temperature, solvents, acids and alkalis, water immersion or humid environments.
11. Please do not let any liquid flow into or splash into the inside of the equipment to avoid short circuit or fire.
12. Please do not open the device by organizations or personnel not authorized by the company.
13. If this device is not used for a long time, please unplug the power plug.
14. In order to avoid unnecessary damage to the product caused by frequent power on/off, it should wait at least 30 seconds after shutdown before turning it on.
15. Before connecting or unplugging any signal cables, make sure that all power cables have been unplugged beforehand.
16. Ensure good heat dissipation and ventilation of the system.
17. Please install in a suitable position under the guidance of a professional.